December 30, 2017
Posted by:

Dr. Louis Ogbeifun

Category:

Blog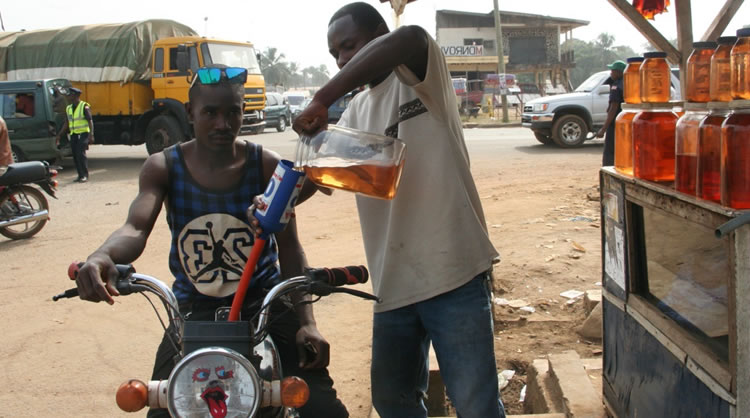 [ad_1]
The major issue confronting us currently is the recurrence of fuel queues across the nation. This is no longer news but the real news is that people and several media houses ascribe this unfortunate tragedy to PENGASSAN strike. It is either we are lazy unravel the truth or we color the stories for selfish reasons. But until we manage truth in an appropriate manner, we shall continue to go round this cycle until the end of the world. Some of the reasons for the fuel queues are relevantly tied to forces of demand and supply. When demand outstrips supply, there are bound to be sharp practices, profiteering and all manners of inhuman entreaties. Once confusion sets in the cabals would usually take over where government stops. In my opinion, the following are part of the reasons for this particular fuel scarcity.
Dearth of functional refineries in Nigeria. Even at full capacity, our refineries cannot produce what we consume daily. So our inability to produce refined petroleum products locally would trouble us anytime there are issues with fluctuations of crude oil prices and the dollar.
Appreciation of crude oil price, which though a blessing, also ties importation of the petroleum derivatives to the apron strings of the dollar and all other importation costs
For very many reasons, there are identifiable gaps in the volume of products available as only the NNPC currently imports the product. The Honorable Minister of State of Petroleum Resources, Dr Ibe kachikwu was reported by online media on December 7 2017 to have alluded to this.
Marketers have suspended the importation of regulated petroleum products because they alleged that the Federal Government has failed to reimburse their claims, increase in the landing cost of petroleum products and therefore, unable to profitably import petrol at this time.
Marketers' inability to access FOREX thereby limiting their financial capacity to import petroleum products.
What most Nigerians didn't realize is that though government seems to have hands off subsidy, but government tend to be indirectly compelled to pay the cost of funds in dollars. This is like playing the Ostrich.
Outright arm-twisting tactics by Marketers in order to force Federal Government to fully deregulate the sector by January 2018.
Profiteering by some marketers who on seeing any lacunae in the system, seize the opportunity to cause confusion in order to maximize profits at the expense of suffering Nigerians. Many marketers buy from the NNPC and divert it to other areas with higher bids. We recently heard about the 144 trucks discovered in Kano that were not taken to the designated filling stations perhaps waiting for an increase in pump prices before taking them there. A simple arithmetic of buying would suffice. 144 truckloads of 33,000 litres of petroleum products/truck at N150/litre including all manners of "egunje" would give you N712, 800,000. If sold at today's average rate of N250/litre, the owners would have effortlessly earned N1, 188,000,000. So, it would take an Angel a great restraint, to see this type of loophole and don't exploit it.
In winter, the usage of heating oil in Europe increases. According to the United States Information Administration (EIA), crude oil accounts for 55% average price of a gallon of heating oil during the winter months (October through March). What this means is that if we are not producing finished products, there is the likelihood that we would have shortages around this time because the advance nations utilize more crude oil for producing heating oil for their own use. So, we would have plugged all drawbacks since October. If care is not taken, this scarcity might linger into the New Year except miracle happens.
Vandalism and stealing of products from the pipelines making it impossible to have a throughput via pipelines.
Cumbersome trucking processes
Bad roads and losses of trucks to accidents.
External diversion to neighboring countries
Crude and importation of petroleum products are based on international market prices, it behooves that any instability in the FOREX and crude oil prices must affect the supply side of PMS as marketers would need to source for dollars to finance importation.
Dearth of functional depots for an all year round storage
I do not have all the answers; but I believe some of the followings when added to your suggestions would help Nigeria on a short or long-term basis:
Urgent passage of the Petroleum Industry Bill (PIB) to kick start the liberalization and deregulation processes. It would lay to rest issues of subsidies in whatever form and in addition remove the unforeseen hands of government in the affairs of the NNPC. The PIB among others was conceptualized to reposition the National oil company for commercialization. If we miss the first quarter mark of 2018, it is shall be good night to any meaningful legislation in the oil and gas sector for a long time to come.
The framework as espoused by the PIB would enthrone transparency, accountability, strengthen the downstream structures and emplace an autonomous and stronger petroleum regulatory body. This would also shore up investor's confidence in building new refineries in the country.
Decentralize the depots across the country. The concentration of the depots in Lagos is a very serious bottleneck in the dispensation of petroleum products.
Adequate utilization of the coastal and other depots in the country to remove the heavy burden on Atlas Cove in Lagos. For instance there is no reason why the ports in Port Harcourt, Warri and Calabar cannot be made functional all year round.
Ensure optimum functionality of the country's four refineries through systemic upgrades.
Address Marketers' FOREX concerns in a more rational manner. Subsidy in whatever form has been found to breed corruption in the industry and a serious cause of worry.
The industry regulators must ensure that tankers loaded from the depots discharge in the designated filling stations and eradicate sharp practices at the depots by the stakeholders.
Fast tracking the building of the modular refineries as promised.
Trade Unions must pressurize the National Assembly to pass the PIB before the end of the first quarter of next year.
The model adopted for the running of the downstream has failed and new models must be urgently explored.
Pending when our refineries would be up and running, we should make concerted efforts to stockpile petrol in all the depots before winter properly sets in
Nigerians are very resilient, generally good people and willing to support their leaders no matter what. That is why in midst of all these sufferings, they still go about their daily chores smiling. This should not be taken for granted for too long because one day as my people say, "monkey fit go market e no go return" and we are gradually getting there. Nigerians deserve to have better days and times. So many Nigerians would be unable to travel to their villages for the celebration. To them I say, kindly relax and worry not as you would celebrate several Christmases in plenty in future by God's grace. Irrespective of the times and tides, being alive is worth thanking God for. In that regard, we need to pensively but joyously thank God for the gift of existence. However, those who have the wherewithal to celebrate should do so in a cautious and humble manner. Kindly don't go into wild celebrations that would dwarf our sense of appreciation of the present predicament of fellow countrymen and women in need in IDP camps, North East, at filling stations etc. Merry Christmas to you all great friends, Brothers, Sisters and Comrades. God bless your day. Peace!!!ay. Peace!!!
by Louis Brown Ogbeifun.
[ad_2]